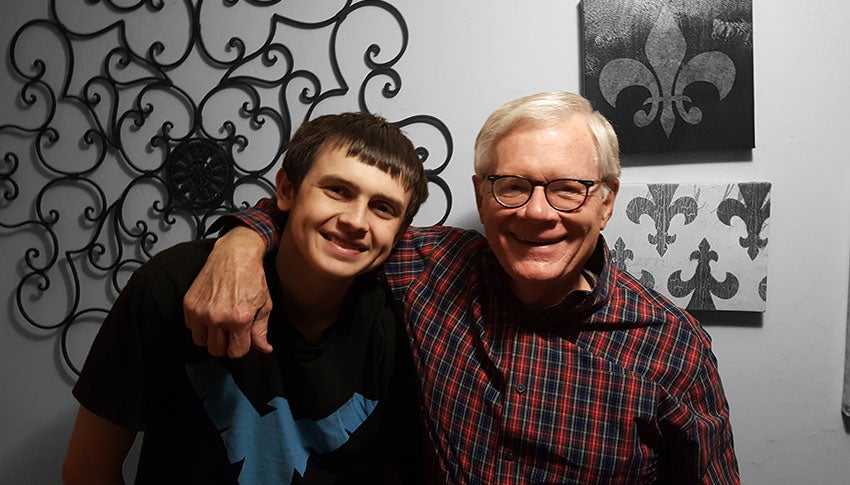 Big Brother Roy and Little Brother Cahill
Big Brother Roy did not have the best upbringing. He grew up with an abusive father, and after an incident with him, Roy made a promise to himself.
"I swore to myself, if I ever had children, I would not treat them the way my father had treated me," he says. "My guiding rule was that whatever my father would have done, I would do just the opposite."
Big Brother Roy raised two sons who grew up to be independent and responsible, just like him. When they left the house, Roy says he experienced "empty nest" syndrome. He tried curing it by babysitting his three granddaughters, serving at his church, and taking up new hobbies, but nothing seemed to fill the void.
After reading about Big Brothers Big Sisters in the newspaper, Roy signed up to be Big. He was matched with Little Brother Cahill, who wasn't your typical 12-year-old.
"Our son Cahill was diagnosed at a very early age with Asperger's, a high-functioning form of Autism where they have poor social and communication skills, and we knew he would have a challenge developing relationships," Cahill's mom says. "Big Brothers Big Sisters seemed like it would be a great opportunity for our son to get paired with someone that could explore different activities outside of the family dynamic and who could become a mentor for him."
"Whenever I was frustrated or upset about something, I've been able to talk to Roy about it."

– Little Brother Cahill
Roy says his mentoring relationship with Little Brother Cahill developed slowly. Like all matches, they had some awkward outings in the beginning, but eventually, they bonded over superheroes and video games. They also spent time around Lake Thunderbird and took annual trips to the state fair.
"We've done so many different things together," Little Brother Cahill says.
Roy noticed that Cahill's attitude was evolving from "I'm only doing this because my parents are making me" to excitedly bursting out the front door when Roy's truck approached. Cahill began greeting Roy every time by saying, "Hey, dude."
Roy points to one moment when he truly felt assured of connection with Cahill. They were driving, and Roy got a phone call from a family member, who told him that his mother had been found in her apartment, unresponsive. Roy apologized to Cahill and told him that he would have to drop him off and rush to the hospital. Roy's mother died that night.
The next week when Roy picked up Cahill, the first thing Cahill said was, "Hey, dude, how is your mom doing?" Roy told him that she had died, and that he and his wife would have to fly to South Texas to scatter her ashes. Cahill said he was sorry, and he insisted on going with them to South Texas. It was difficult for Roy to explain why Cahill couldn't come, but the sincere expression of caring brought tears to Roy's eyes.
"That was a defining moment in our relationship," Big Brother Roy says.
Their relationship has only grown stronger since then. When Cahill was 17, Roy asked him if he wanted to continue their weekly activities, wondering whether he might be growing out of it. Cahill only response was, "Of course, dude."
Roy says, "What began as an attempt to find purpose in my life has evolved into what might become a life-long friendship between Cahill and the 'dude.'"