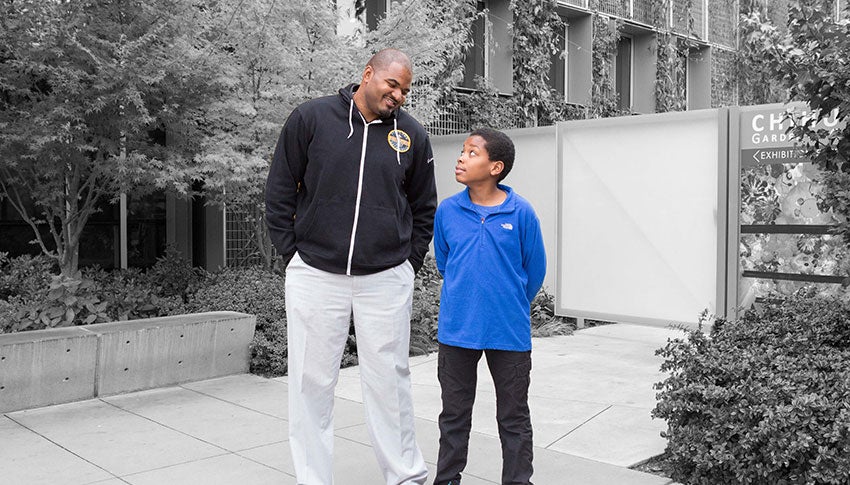 Big Brother Tyler and Little Brother Dre'Von
Dre'Von grew up surrounded by girls, with an older sister and two younger sisters, so his mother decided to enroll him as a Little Brother.  She felt Dre'Von could use a positive male model in the form of a Big Brother, and he was matched with Tyler.
"Dre'Von and me have been matched for almost three years now," Tyler says. "But it definitely feels like we've been hanging out for much longer."
"When we met, we were cool with each other right away."

– Big Brother Tyler
Dre'Von was quiet at first, but the two bonded over video games. They got to know each other while laughing and duking it out on games of Madden and NBA 2K. As their bond strengthened, they began exploring the world beyond video games. They've visited the Seattle Zoo and agreed their favorite animal is the wolf, and have also seen two of their professional sports teams play.
"We've been to a Mariners game on a perfect fall Friday evening, and recently were sponsored to go to a Seahawks game and saw the brightest neon jerseys ever worn in football history," Tyler says.
Coming from a house with three sisters and his mom, Dre'Von really appreciates all the fun he can have with Tyler. The two are able to talk trash to each other and joke around about things going on around them.
"We treat each other like family and it's really nice," Dre'Von says. "I love having a guy to hang out with."
The two have shown that they can have fun together, but it's Tyler's dedication to the match that makes the fun and impact possible. When Dre'Von was living in transitional housing, Tyler never hesitated to make the drive to a new location to pick him up and hang out with him. When Dre'Von needed , Tyler rearranged his schedule so that he could pick up some from the Big Brothers Big Sisters office and deliver them to Dre'Von.
"Since Dre'Von has been matched, he has been happier, and loves when he goes with his Big Brother," Dre'Von's mom says.
Dre'Von is still years from graduating, but Tyler has already started him thinking about college. He's taken Dre'Von to college campuses just to throw the football around, and Dre'Von has already begun to talk to him about what it would be like for him to attend one of the universities. The day will come eventually, but for now, Tyler is just enjoying the match and watching the once-quiet boy grow and mature. He says, "I'm looking forward to keeping our relationship going and seeing him continue to become more and more confident over time."