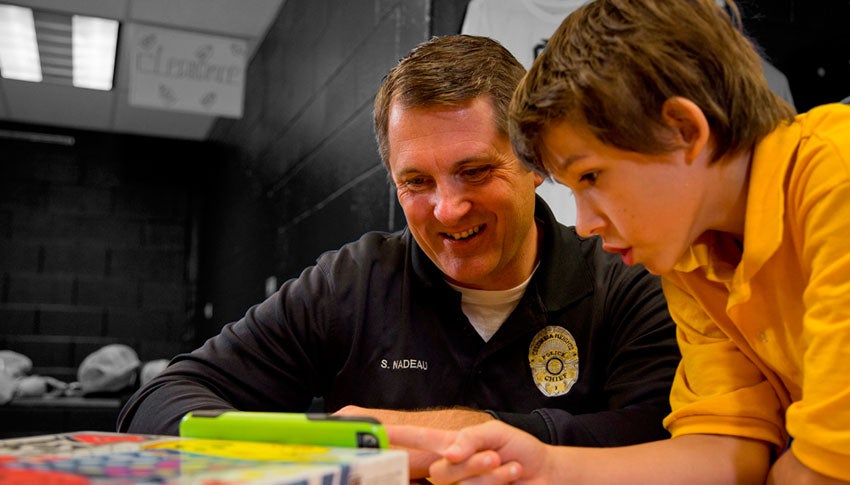 Big Brother Scott and Little Brother Connor
Police Chief Scott grew up with two quality mentors — his parents. His father taught Scott and his friends to fish and hunt, and his mom encouraged them to empathize with others. The lessons had lasting effects on Scott, but modeling mentorship may have been the biggest. As he went through college and started his career as a beat cop, he sought out mentors for himself and eventually sought to become one.
"Thanks to my upbringing, I wanted to contribute to my community by becoming a mentor," Scott says.
Back in 2006, Scott connected with his local agency and became the Big Brother to Little Brother Marcus, who he describes as being a "curious fifth-grader." They began as a school-based match. Scott and Marcus played games and worked on homework at Marcus' school. Eventually, they transitioned to being a community-based match, so they could do activities in the community.
"I introduced Marcus to fishing and other outdoor fun that this 'city kid' had never experienced," Scott says. "Through Marcus, I learned important information about what it was like for him to be raised as a young black child facing poverty in North Minneapolis, as well as his experiences in school, with sports, and unfortunately with the police."
Around this time, Scott became Chief of Police for the City of Columbia Heights. The city had a rising crime rate and was one of the least affluent of all the Twin Cities suburbs. As the new police chief, Scott took a look at the city and his department and realized that strengthening the relationship between the law enforcement and the youth they served could have the positive impact he was looking for, and thanks to his Little, Marcus, he knew exactly how to do it.
"I cannot overstate the tremendous impact BBBS has had on our community and our kids."

– Big Brother Scott
He started by organizing the first "Summit on Youth" which brought together community members, school and city officials, and other leaders to set priorities for youth development. One of the key priorities that emerged was mentoring. Scott first had his officers visit schools to lead story time, talk about bullying, and play sports with kids. In 2012, when a new BBBS School-Based Mentoring Program started in Columbia Heights, Scott made sure many of his officers signed up, and now more than half of the officers serve as Bigs.
"It's great to see my cops visiting schools, making friends and perching on tiny chairs to read stories, shoot hoops, or talk with teens," Scott says. "The department's culture has fundamentally changed and our staff now understand the benefits of building mentoring relationships."
The city and the department have seen the results and people outside have taken notice as well. The International Association of Chiefs of Police awarded it a Community Policing Award in 2012. The U.S. Department of Justice honored the police/school collaboration with the 2015 Anthony Sutin Civic Imagination Award, calling it "a national role model in stark contrast to the climate of mistrust that now dominates police-community relations in many cities." The department has been featured in news outlets from the Minnesota Star Tribune to the Huffington Post.
"The city has seen an astonishing turnaround, and is thriving," says Scott's BBBS Match Support Specialist. "Juvenile arrest have fallen by more than half, from 243 in 2007 to 90 in 2015; and the high school suspension rate has dropped 130%."
While Scott's advocacy for mentorship throughout his department have been a key part of city improvements, he hasn't forgotten that it all starts with individualized one-to-one relationships. When Little Brother Marcus became a young adult, Scott became a Big again to Little Brother Connor. Over the last three years, he's seen Connor go from an unfocused and disengaged kid to a kid who participates in the afterschool robotics club and school musical. To celebrate Connor's growth, Big Brother Scott took him go-karting.
Scott has spent his life witnessing the power of mentoring and the power of advocating for it. He continues to this day, recruiting his friends in fire departments and city councils to become Bigs as well. He even recruited his own wife to become a Big Sister. Whenever someone he knows decides to become a Big, he shares the same advice.
"Life is about connection," he says. "Just care. Be there. People don't need advice as much as they need presence. Just show up."