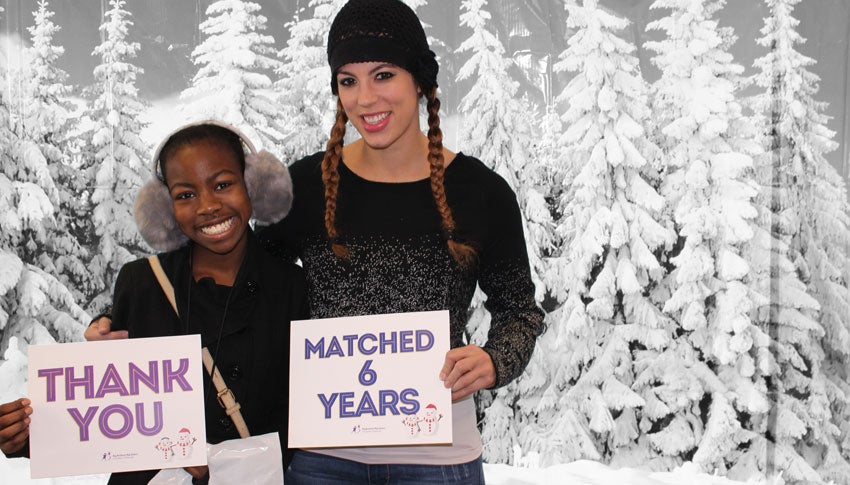 Big Sister Lauren and Little Sister Shyae
When Big Sister Lauren was matched with Little Sister Shyae, they felt an instant connection. Shyae felt so comfortable around Lauren that she opted to call her "Sissy."
"I was feeling kind of lonely before I met Lauren," Shyae says. "I was happy to have a new friend to venture out in life with."
Shyae's mom signed her up to be a Little because she noticed a negative change in Shyae's attitude in school and at home. She felt she needed someone to listen to her, give her guidance, and help boost her confidence. Luckily, around this time, a graduate student named Lauren had completed her student teaching and decided she could spend her extra time being a Big Sister. They were soon matched.
"Shyae and Lauren are the perfect match and have similar, yet unique personalities," Shyae's mom says. "It's funny because their clothes often match when they get together.."
In the six years they have been matched, Lauren has made an effort to share new experiences with Shyae and help her explore her interests. The two have walked on runways at fashion shows, appeared on a live radio talk show, and sung their hearts out at a Taylor Swift concert. Together, the two have also used their match outings to overcome each other's fears – public speaking for Lauren and heights for Shyae.
"The organization has made a Big difference in both or lives, and will for years to come."

– Big Sister Lauren
"Shyae has now stood beside me as we have presented about the Big Brothers Big Sisters organization at numerous nonprofit events throughout greater Pittsburgh," Lauren says. "We have also conquered her fear of heights by riding the Pittsburgh Incline and Kennywood's highest roller coasters."
One of Shyae's favorite outings was an event at the Big Brothers Big Sisters of Greater Pittsburgh office called "Fierce Women Project." There, she listened to inspiring women speak, and felt moved to kick-start her own little business of designing and selling jewelry.
"I named my business 'Shyae's Unique Jewelry,'" Shyae says.
Shyae set up "Shyae's Unique Jewelry" tables at various events, and Lauren supported her Little Sister's entrepreneurial efforts, often helping her pick out supplies to make her jewelry.
Over time, Shyae has transformed from a lonely, shy, girl into a confident young woman who conquers her fears, owns her own business, and excels at school.
"To me, Shyae is an artist, a stylist, and an entrepreneur," Lauren says. "She's a snapshot of today's youth, and I just so happen to be lucky enough to call her my Little Sister."
Lauren should probably add "poet" to that list of words describing Shyae. Recently, Shyae's teacher asked Shyae to write a poem, and she chose to write about Lauren. She encapsulated the beauty of their relationship in eight lines:
"Ode to My Sissy"
Thanks for supporting me, even when I am wrong
Thanks for protecting me, and making me strong
Thanks for soothing me with love, when I am down
Thanks for making me smile, and wiping my frowns
Thanks for watching out for me, when things don't seem fine
Thanks for pulling me up, when I am out of line
Thanks for playing perfectly, my sister's role
I will always love you, from my heart and soul.