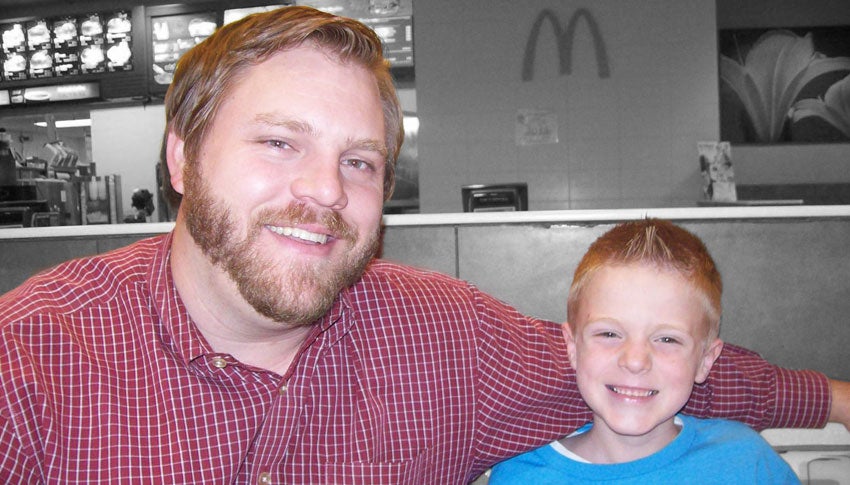 Big Brother Nick and Little Brother Gavin
Gavin used to lie in bed, crying, because his dad showed no interest in being part of his life. Dealing with the pain of that crowded out everything else. He started struggling with his grades and getting in trouble at school. Gavin's mom was worried about her son.
She turned to Big Brothers Big Sisters for help, and Gavin was matched with Big Brother Nick.
Their first match meeting took place one evening at a McDonald's. Gavin arrived first and anxiously waited for Nick to get there. When Nick walked through the doors, Gavin beamed.
"I'll never forget his curious eyes and smiling face that first evening," Nick says.
The two hit it off right away and quickly began making memories. Nick took Little Brother Gavin to explore the flooded Wichita River, and to experience his first Texas Rangers game.
"We were so lucky to be matched with someone that genuinely cares about making Gavin a better person."

– Little Brother Gavin's mom
Over time, they built trust in their relationship, and Gavin's mom began to see signs of progress in Gavin's focus and behavior. But change doesn't happen overnight, even when you have a Big brother.
When Gavin was pulled out of class for misbehaving, Nick took off work and drove 20 miles to go to his school to talk to him. Gavin's mom says that moment was a defining one for their match.
"He talked about his personal experiences as a child and things Gavin could have done to avoid trouble," she says. "He also let Gavin know that no matter what, he wasn't giving up on him."
Now, even when Gavin is in trouble, he knows he has someone who will take time to listen him and still want to be in his life.
"I can always talk to him about anything," Gavin says. "I know he listens even when I'm sad or angry."
At the beginning, Nick set out to accomplish two sets of goals for his match with his Little Brother. The first were short-term goals mainly focused on improving Gavin's behavior in class. Nick says he is making strides toward that one. The second set of goals are long-term and a little loftier.
"Because of his relationship with his own father, my long-term goals revolve around me showing him what it takes to be a good man, a good father, and a good husband," Nick says.
Nick knows his goals are ambitious, so he has relied on Big Brothers Big Sisters staff for support and guidance throughout the match. He knows they are always a phone call away.
Gavin's mom has already began to notice a difference in her son.
"Since he has had Nick in his life, Gavin rarely talks and never cries about his dad," she says. "Having a male person in his life that really 'listens' to Gavin has resulted in better self-confidence, better grades and improved behavior."
By the looks of it, Nick is one his way to reaching his goals, with Gavin benefiting the most.