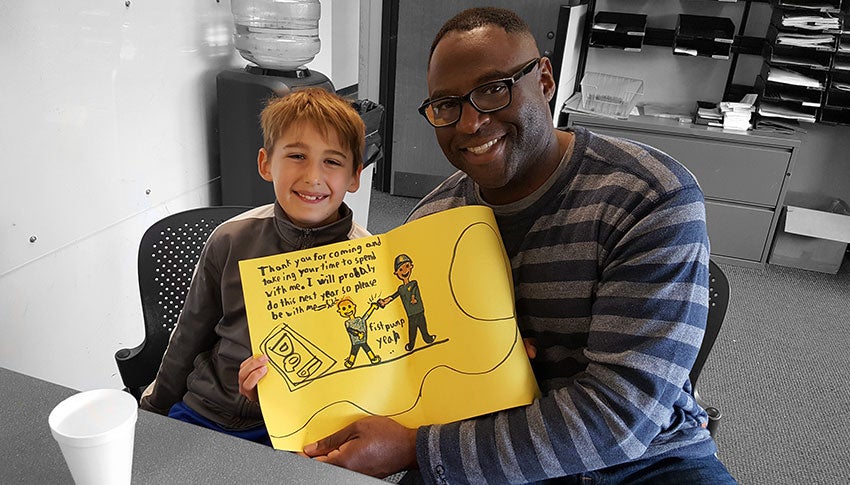 Big Brother Myrone and Little Brother Sidd
When Sergeant Myrone Grady was a little kid, he never thought he would become a police officer. "I was a knucklehead, I was always getting into trouble," he says. "I am from the city. I wanted to be a street kid, I wanted to run around and act a fool, and I thought I would go to Florida State, and buy my mama a house and an Escalade."
But there was always somebody there for him. A football coach. A basketball coach. An uncle. Someone who talked to him and shifted his course. With their positive influence, he stayed focus in school and eventually became a patrol officer and then a school resource officer. Now, he's a sergeant.
He knew he wanted to have that same influence on kids like him, so he studied social work in college. And now his list of titles includes "Big Brother."
He was matched with Little Brother Sidd through Kansas Big Brothers Big Sisters two years ago. Now in third grade, Sidd is an outgoing, rambunctious kid who sometimes has a hard time focusing. "He's kind of learned that if he acts up a little bit, he gets that attention, so we are working on that," Big Brother Myrone says.
Mentoring Sidd allows Myrone to connect one-on-one and make a difference in the way he was hoping for when he first became an officer. Once a week, he visits Sidd at his school. They play games or work on homework.
"The point is to do your best and make a connection."

– Big Brother Myrone
He says having a Big Brother who is a police officer gives Sidd a boost of self-confidence and self-esteem. "He had a sense of pride that I was his," Myrone says. "It made him feel special when I showed up."
Because he visits his Little Brother at school during his shift, he arrives in uniform, and it's obvious he is a police officer. He doesn't mind the extra attention the uniform attracts. "It's almost like I am show-and-tell," Myrone says. "I am high-fiving the kids, and they all want me to sit with them at lunch."
Big Brother Myrone says he hopes the effects of getting to know an officer ripple through the lunchroom, beyond his own Little Brother. "It's going out there and being visible. If you're out there dealing with kids, if they see you as a person," he says, "when those kids are 25, if they have had positive interactions with police officers, that's what makes a difference."
When Myrone got involved with Kansas BBBS, he approached his Chief of Police, Tarik Khatib, about getting more members of the department on board with "Bigs in Blue," Big Brothers Big Sisters' program created to foster relationships between police officers and Littles. Chief Tarik was not just in favor of more officers becoming Bigs; he was the first to volunteer. Having the Chief sign up to be a Big Brother made it easy for officers to take that step too.
"Some people worry that they might not be able to be as committed as they want to be, and they don't want to let the kids down, but that's not the point," Myrone says. "The point is to do your best and make a connection."
He knows that when people see the badge and the uniform, they are sometimes reminded of negative news stories, old wounds, or misperceptions. But he believes that the way to change that reality is to relate to the community, and the way to relate to the community is to get to know them authentically. "I think it's important to know that we are cops, but we're also regular people," he says. "I'm a regular person – I just have an extraordinary job."