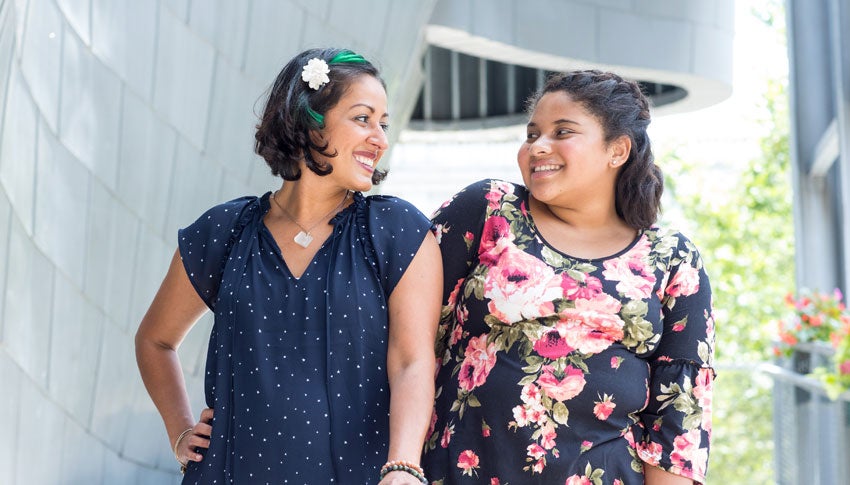 Big Sister Myra and Little Sister Saleen
The crowd at the 2018 BBBSA National Conference gave a standing ovation when the 2018 Big Sister of the Year, Myra, hugged her Little Sister Saleen on stage. Saleen had just introduced Myra to the attendees, and it was Myra's turn to speak, but they couldn't go on without a hug first. They both knew how far they had come to get to that moment.
Their story started when Saleen was 6 years old. She had recently lost her father. At school, her teacher knew she wasn't coping well with the loss, so they referred her to Big Brothers Big Sisters of Broward County. She was matched with Myra, who became her Big Sister and began visiting her at school once a week. They felt instantly connected.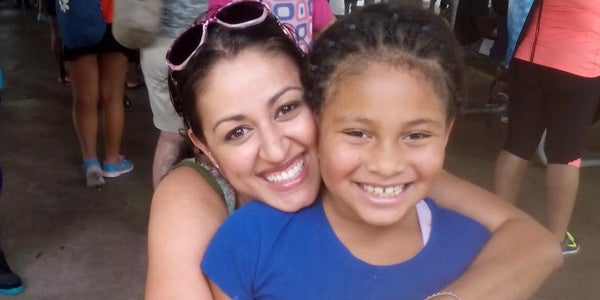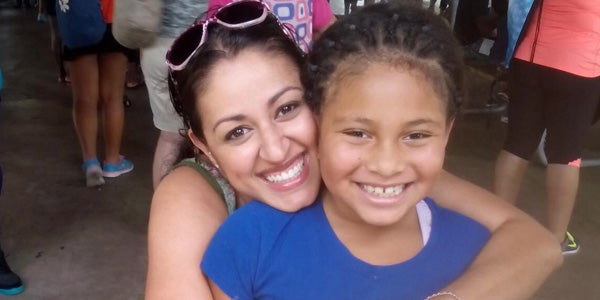 "I knew that Saleen had just lost her father, and I could only imagine how confused she must have felt," Myra says.
Myra started noticing something troubling about then 6-year-old Saleen. Patches of her thick brown hair were missing. "She had a bald spot on the side of her head," Myra says. "Even though Saleen was not vocal about the pain she felt, she displayed it in other ways." She was pulling out her hair. Her eyebrows. Her eyelashes.
"If your day is bad, she always knows how to make you smile, no matter what."

– Little Sister Saleen
Myra knew she needed to help her Little Sister, so she reached out to their Match Support Specialist. Together, they talked about how to support Saleen and give her tools to cope with her grief. Myra decided to bring supplies to Saleen's school and help her make a memory book about her father, so they could talk about the happy, positive memories she had of her dad. "I thought it would give her the opportunity to use her creativity to talk about her father and relieve some of that stress," Myra says. "That first year, we did a lot of crying together, but it all paid off." Saleen stopped pulling her hair out.
Myra's lesson to Saleen during that time was one that she continues to carry with her: "Bad things happen in life, but the way you react to them makes a huge difference."
After Myra and Saleen had been matched for a few years, they both had to face something that tested that lesson.
"In August of 2016, I was diagnosed with Stage 3 breast cancer. I completed 16 rounds of chemotherapy. In February 2017, I was diagnosed with Stage 4 metastatic breast cancer," Myra says. "The cancer had spread to my spine."
Myra was terrified to tell Saleen. "This little girl had already experienced such a big loss in her life," Myra says. "I didn't want to contribute any more anxiety."
Myra went through months of treatments. She was vulnerable to infection, so there were stretches of time when she couldn't see Saleen. Instead, they called each other and sent cards. Saleen and her mom ran a 5K race that raised money and awareness of breast cancer. "Myra was so committed and strong for my daughter at a time when she honestly didn't have to be," Saleen's mom says.
Eventually, Saleen and her mom were again permitted to visit Saleen's Big Sister. Yes, her Big Sister has cancer, Saleen says. "But that never stopped her from smiling. Even though we couldn't see each other that often, we would have the time of our lives when we did."
Recently, Myra's doctors pronounced her "NED," or "No Evidence of Disease." She is back to seeing Saleen regularly. As Big Brothers Big Sisters of America's National Big Sister of the Year, Myra is looking forward to her five-year match anniversary with her Little Sister and continuing to teach her lessons that will empower and inspire her potential.