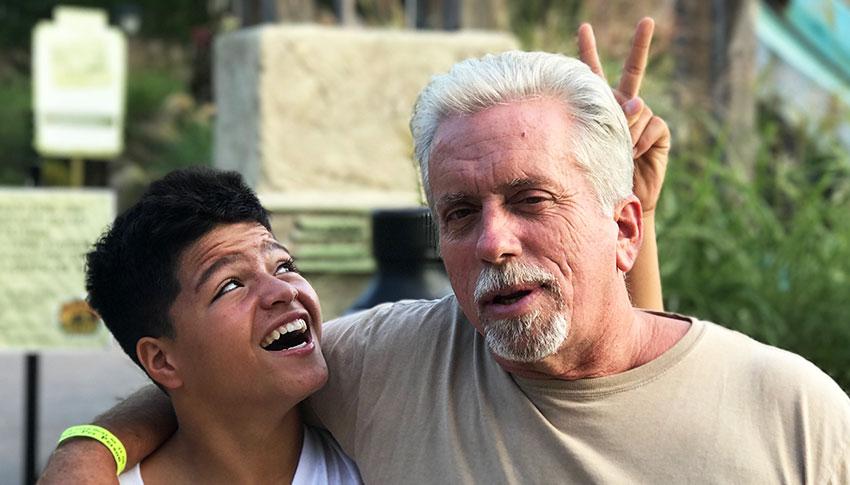 Big Brother Kevin and Little Brother Marcus
Millions of children are being raised by their grandparents, many because of their parents' struggles with addiction. In 2017, nearly 10% of Big Brothers Big Sisters Littles were being raised by a grandparent, another relative, or a foster parent.
When Little Brother Marcus was just 3 years old, his aunt took full custody of him because neither of his parents were in a place to raise him. One of his parents was struggling with opioid addiction and the other was not a consistent presence.
Marcus has lived with his aunt and four female cousins since then, and he has struggled with dealing with his anger. Marcus often found himself called down to the school office for an outburst in the classroom or on the playground. When he was in first grade, his family received something special in the mail.
"One day, we received a letter about a program called 'Big Brothers Big Sisters,'" Marcus's aunt says. "After discussing it with the guidance counselor, we decided it was something that might benefit Marcus."
"I look forward to many more years and adventures with him."

– Big Brother Kevin
They signed him up to be a Little through BBBS of of Cumberland & Salem Counties and he was matched with Big Brother Kevin. Marcus's life slowly started to change. At first, Big Brother Kevin visited Marcus at school, playing kickball or working on school work. When Marcus transitioned to middle school, they became a community-based match so they could see each other outside of school and on weekends.
"This was the beginning of the infamous 'Marcus Sunday,'" Kevin says. "With Marcus in seventh grade, I started the tradition picking him up at 9:15 almost every Sunday morning."
The two spent nearly the whole day together, often wrapping up after dinner. Occasionally, they took trips to Six Flags or explored Philadelphia, but a lot of the time, Marcus simply hung out with Kevin and his family. Kevin's wife began making sure that Marcus was always included in the Sunday plans, and Kevin's son played basketball with Marcus like they were actual brothers.
Marcus's aunt saw a change in him. Kevin's family was exactly what Marcus had been missing his whole life, she says. "As time passed, Marcus no longer belonged to a mentoring program," she says. "He belonged to a family that loved and accepted him."
Marcus felt that way, too. Kevin and his family helped him believe in himself and in what he could achieve in the future.
"If I never had Kevin, I don't know what my life would be like," he says. "Kevin helped me choose goals for my future, like playing football for the University of Florida. I want to be a Gator."
Football is his first goal, but his backup plan is to pursue a career in business, following in the footsteps of his Big Brother, who is a successful business owner. Seeing the growth that Marcus has already made, his aunt can't wait to see what the future holds for him.
"Kevin has done much more than act as a Big Brother," she says. "He has inspired Marcus to become a great man."