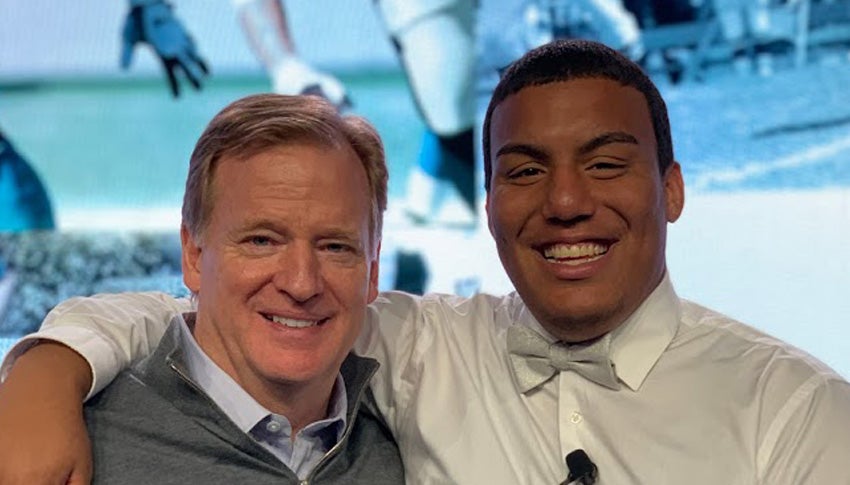 BBBSA Champion and NFL Commissioner Roger Goodell and Little Brother Tyrese
As a part of their new "Inspire Change" campaign, the NFL invited Big Brothers Big Sisters to be a part of their Annual Meeting. Big Brother Chris and Little Brother Tyrese, a "Bigs in Blue" match from BBBS of Miami, traveled from Miami to Arizona to tell their story. Off stage, they were star-struck as they met players, coaches, owners, and legends. On stage, they brought those same stars to tears.
Before going on stage, Tyrese got to meet BBBSA champion and NFL Commissioner Roger Goodell. Goodell is a former national board member of BBBSA and currently serves on the board of BBBS of NYC. He and Tyrese hugged and posed for a picture — "practicing for Draft Day," Tyrese said.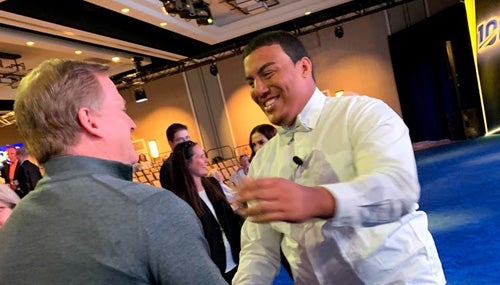 Big Brother Chris and Little Brother Tyrese told the crowd that their match was a perfect fit, though it might not have seemed that way at the start.
Big Brother Chris, a detective with the Miami Beach Police Department, had lost his son when he was just weeks away from high school graduation. He suffered a sudden heart attack, a result of an undiagnosed heart condition, and he died weeks later.
"To lose anyone is painful," Chris told the audience, "but losing a child truly left a hole in my heart."
Tyrese had suffered his own loss before moving to Miami. His cousin had been killed by police in a gang-related incident.
"When I first came to Miami from New York City, I didn't exactly trust the police," Tyrese said. "To be honest, no one in my neighborhood really did."
When Chris opened up to Tyrese about losing his son, Tyrese began to see Chris as a person, not just a uniform.
"It was these losses that bound us together and made us a team," Chris says.
Together, they worked on Tyrese's grades, bringing them from almost failing to honor roll. Tyrese says that through his relationship with Chris, he has also developed respect for not only police but also teachers, coaches, and his mom.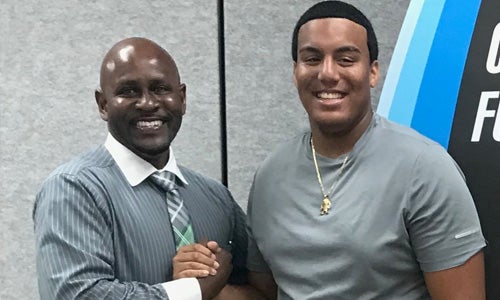 Through Big Brother Big Sisters, Chris says that he—and his fellow officers—have also been building respect and relationships in their community and with their Littles.
Creating long-term relationships that help youth reach their full potential and strengthen communities is what Inspire Change is all about.
"I'm happy my Big Brother Chris has stuck by side this whole time, and when I'm off playing on Sundays with you all, he'll still be right there by my side," Tyrese said.
The moment was met by hug from his Big Brother and a thunderous applause from the crowd.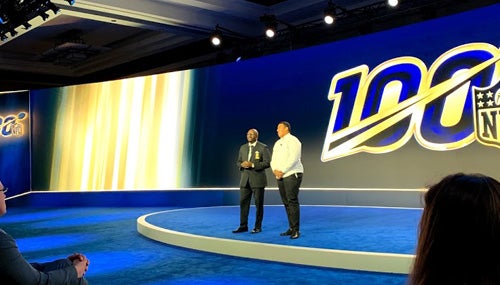 Afterwards, Arizona Cardinals wide receiver Larry Fitzgerald introduced Chris and Tyrese to the media, where they answered questions, just like real NFL players after games.
Big Brother Chris and Little Brother Tyrese spent the rest of their time at the NFL Annual Meeting getting advice from other NFL stars and personalities, like Seattle Seahawks quarterback Russell Wilson and his wife, Ciara; Dallas Cowboys owner Jerry Jones; and Seattle Seahawks head coach Pete Carroll. Carroll told Tyrese to work hard and keep his head on straight. With a Big Brother like Chris, that shouldn't be a problem.
Today, Big Brother Chris and Little Brother Tyrese shared their match story at the @NFL Annual Meeting. More matches like theirs will be possible thanks to the NFL's new "Inspire Change" campaign. pic.twitter.com/egavEu4Y3h

— BBBS (@BBBSA) March 25, 2019